What Are Wrestle Offs?
In short, a wrestle off is an exhibition match between wrestlers who are competing for the spot at a weight class in order to represent the Saints at a team tournament.  Team tournaments are different than individual tournaments (and explained more below).  Here's how it works... if there are two wrestlers on the team that both want to be the named starting wrestler on the team at a a specific weight they will wrestler each other in a standard scored and timed 3-period match during practice to determine the named wrestler at that spot.  The wrestler who wins the exhibition match will be named the wrestler to represent the team at that weight class for the next team tournament.  Wrestlers that want to earn the spot can have a chance to wrestle off before each tournament.  That is, there is a chance before any given tournament for a wrestler to earn the spot by participating in a wrestle off.  If your wrestler previously lost the wrestle off match before one tournament, they can have a chance to wrestle off again before the next tournament.  We will send out a sign up before each tournament for parents to register their wrestler for wrestle offs.
Why Do We Do This?
Most team tournaments that the team participates in are called "K-6 Team Tournaments" which means each weight class will include an individual of any age in the K-6 range.  Because the age range is wide and because in general all clubs will be putting their best wrestlers forth at each weight class it is proper that our team does the same and puts forth the wrestlers that are both ready and have earned the spot.  This is also the same format for determining wrestlers at the varsity and junior varsity levels so we are setting the same standards and expectations that they will be familiar with when they transition into their future programs.
About Team Tournaments
The below is a summary of how team tournaments are formed and run.  For a formal definition of team tournament rules as per the NYWA please review them on their site.
Team tournaments are different in that the team will assemble a group of wrestlers split out into separate weight classes that each individual wrestles within.  Team tournaments are also published on the Guillotine, but your child's participation in a team tournament will be offered through parents signing up their wrestlers (a link will be sent out with a form to sign up online) and the wrestler participating in "wrestle offs" at practice (more on this below).   Team tournaments have a stated age group for members of a given team (often K-6th, but some are K-3rd).  A K-6th team will be comprised of wrestlers from ages K to 6th grade that best fill in all of the weight classes to create a competitive team.  The weight classes for K-6 teams are 45, 50, 55, 60, 65, 70, 75, 80, 84, 88, 93, 102, 115, 130, Heavyweight (over 130).  The goal of the team will be to fill each weight class with a wrestler to be a part of the team at the tournament.  The team also will take alternates, which are additional team members to help fill in for matches as needed (more below).  A typical weight class bracket for a team tournament might look like: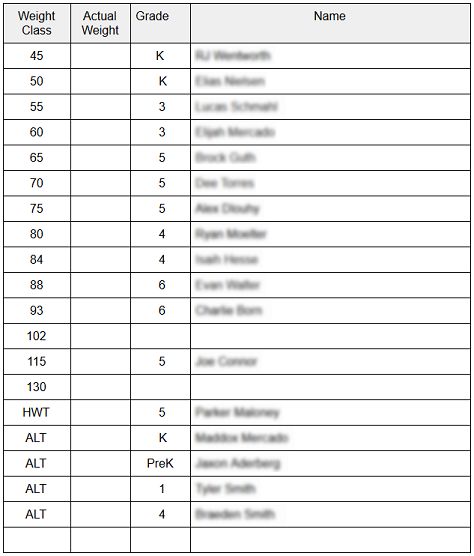 A wrestler at a weight class will have up to a 0.9 lb allowance.  This means a wrestler that is planning to wrestle at the 45 lb class can at most weigh 45.9 lbs at the weigh in before the tournament.  Please speak with the coach to determine what weight class would be most appropriate for your child when signing them up for a team tournament wrestle off.  Coaches utilize "wrestle offs" during practice to determine the most suitable team members to place at each weight class.  For instance, if we have 3 wrestlers at the 45 lb weight class that want to participate in that slot at a team tournament they can earn the spot by competing with their fellow wrestlers at that weight during practice in a 3 period match similar to an open tournament.  A wrestle off is a wrestling match between two individuals at the same weight class that happens during team practice.  The winner of the wrestle off will be eligible to wrestle for the team tournaments.  The weight at which they wrestle will be determined by the coach.  Additionally alternates will be needed for the team tournaments.  If you sign up your wrestler for wrestle offs at a weight class and they did not win the wrestle offs, they still have an opportunity to be an alternate at a tournament.  Alternates will be present with the team to help fill for the team in case there are any circumstances or coaching decisions that result in needing to fill in a weight class that is occupied by a team member that won the wrestle off for that class.  Coaches also try to get matches scheduled for the alternates at the tournaments so that they have a chance to compete in exhibition matches with wrestlers from the participating teams.  While these exhibition matches are not always guaranteed to be possible, the benefit of team camaraderie and experience as an alternate at tournaments provides tremendous value for the individual and the team as a whole.  Please discuss with the coaching staff if you are interested in your child being an alternate.
The coaching staff will announce during the season when they are accepting sign ups for wrestle offs for the team tournaments.  For a team tournament, each weight class will be matched up when teams face each other and points towards an overall team score are accumulated.  The team with the total higher score at the end of a match will be declared the winner of that match.